Product Details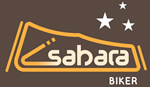 Lightweight, tough & durable, the Sahara Biker dome is the most featured biker dome swag on market. The Biker is a convenient & practical, easy to set-up dual head or top entry swag with plenty of room at 750mm wide. The swag can be rolled up and packed smallerdue to a more compact and narrow mattress so will fit on the back ofyour horse, bike or back more easy. Packed rolled size is approximately 500mm wide x 300mm and packs into a black colored PVC swag carry bag.
PVC base provides excellent waterproofness so you can roll out the swag anywhere, and is easy to hose or dust off..
Theswag rolls up tight inside the handy bonus gearbag, keeping road grime and dirt away whilst providing great storage for clothes & valuables at night. PVC material makes the bag easy to clean and brush the dirt off..
The biker dome uses top quality Black colour 14oz rotproofed Tear resistant ripstop cotton canvas, which is a supple highly waterproof fabric withgreat breathability.
Packed with features including a large front window entrywith a roll canvasextendable awning,top entry, 50mmhigh density flat foam mattress with removable cover, side and front PVC floor mat, waterproof 500gsm pvc base,zippered 3/4 mesh top with zippred canvas cover,No.#10 heavy duty coil zips, inside pocket, sewn in Nylon straps and tough duraflex buckles for rolling, 8.5mm alloy head and foot pole system, andis easy to set up.
For full features read feature list below.
Comes with Australia wide Sahara 1 year warranty.
Product Specifications
Product Features
Waterproof 100% 14oz poly/cotton canvas which is rot proofed, UV resistant, breathable and mould resistant
High quality zippered head and top mesh fly screen
Dual pole system head and foot
roll down head flap awning with zippered mesh window
2000mm x 500mm wide x 50mm high density foam mattress with removable and washable cover
No.#10 heavy coil duty zips
3/4 length top flap with zips
8.5 pre-angled alloy poles
Robust reinforced peg down points 
High quality luggage style duraflex quick release buckles and Nylon straps for quick set up, carrying and pack up
Durable high strength thread – double stitched and bound
Comes with pegs and peg bag
Comes with PVC carry bag with tough webbing handles and heavy duty zip 
Sahara warranty
Base: 500gsm PVC raised tub floor