Product Details
When we first introduced the Akto over 25 years ago, we did not know that it would become as popular as it has. Although only slightly heavier than a bivy bag, the Akto offers near-luxury, all-season shelter for the solo traveler – lodging that includes a vestibule and a packed size small enough to fit into a side pocket on many packs. It's an ideal choice any time you need the lightest weight, all season solo tent, and while it was not designed for extreme use, it has proven itself on extended polar expeditions, and so will stand up well to all conditions. Hikers, climbers, bicycle tourers and sea kayakers alike have embraced its lightweight roominess, and today it is being used in every clime, all over the world. Long distance backpackers especially appreciate having a sturdy, comfortable room of their own at the end of a long day on the trail. Trekkers find it excellent lightweight accommodation insurance for when traditional lodging in far flung places is overcrowded, overpriced, or unavailable. And tall users find it one of the few solo tents available that has enough room.
Product Specifications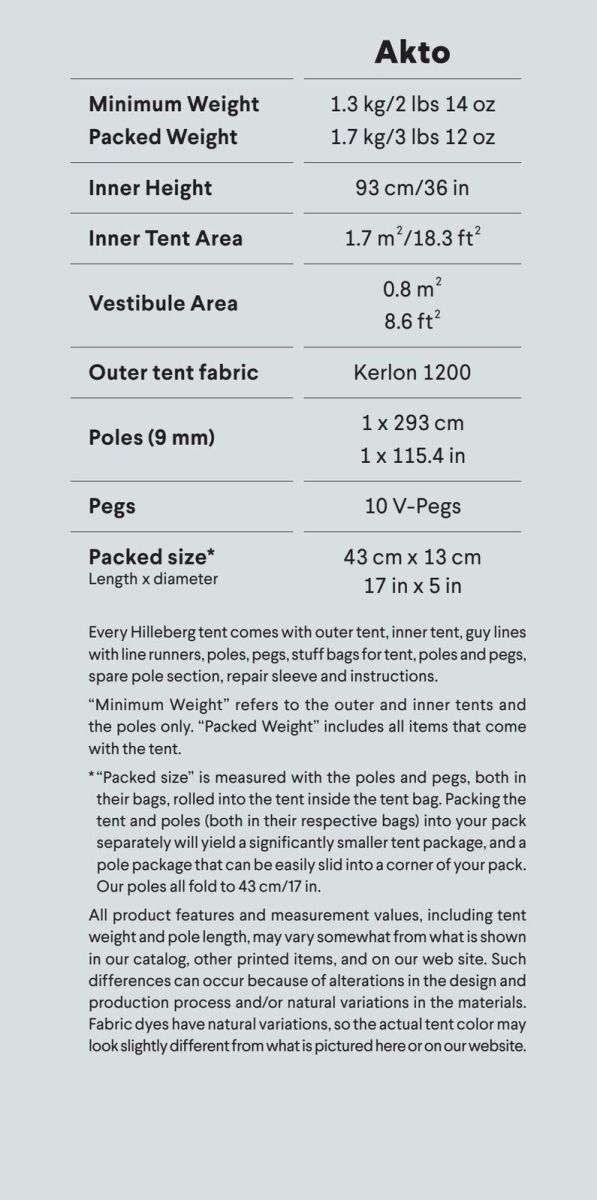 Product Features
Kerlon 1200 outer tent fabric and 9mm poles make for a very lightweight yet supremely stable tent.
All season construction: outer tent walls extend to the ground and mesh areas are backed with adjustable fabric panels.
Single pole construction offers excellent space to weight ratio and is the ideal choice for mobile journeys.
The Atko has plenty of room for one occupant and his or her gear.
Linked but seperable inner and outer tent for simultaneous pitching.
Basic pitching requires only four pegs in the head and foot end guy lines, and the simple, single-opening, continuous pole sleeve and tensioner system is quick to pitch and remarkably stable. (note: pegging out the four corners provides optimal floor space, venting and overall tent function and is highly recommended.)
The single entrance/single vestibule configuration affords easy access as well as storage space.
An optional footprint covers the entire area of the outer tent, including the vestibules. It connects directly to the tent, and can be left attached during pitching.
The inner tent can be replaced with a Mesh Inner tent (sold separately; see accessories).
The outer and inner tents can be used separately. Pitching the inner tent alone requires the optional Akto/Enan pitching kit.
Dual guy lines on each pole, with the upper attachment loop designed to wrap around the pole, increase stability in poor conditions. 
Flaps protect zippers from the rain.
Separate vent cover protects open vents from snow and rain.
Adjustable roof vents can be closed with snow-proof panels, and are accessible from inside the tent. 
Integrated stowage pockets. 
Vestibules are integrated into the construction, resulting in a fully freestanding tent. 
Full no-see-um mesh on inner tent door is covered by a zipper adjustable fabric panel for all-season comfort. 
High bathtub floor keeps out ground water.